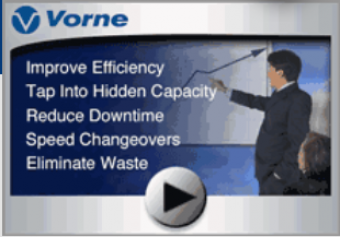 ­
We help you collect and analyze real time production data to identify the root causes of your OEE losses.
­
Improving your OEE will enable you to better utilize your production capacity, improve Productivity and increase Quality.
­
We help you reduce your Setup time, reduce down time and monitor slow cycles and small stoppages.
­
Your production lines information will be available to all levels of management through your Web Browser...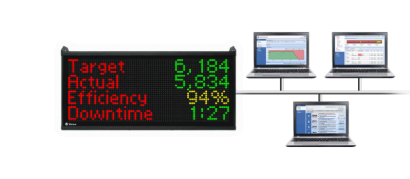 The Challenge
You need a simple and effective way to improve manufacturing productivity. A way to gather actionable information that exposes problem areas, and a way to inspire and motivate the people that have the greatest impact on productivity – your plant floor employees.
­
You need information fast – and at your fingertips. Not buried in a report that is days or weeks old. With resources and budgets already stretched thin, somehow you need to produce more with less. And you need an easy and affordable solution with no software to install, no contracts to sign, and installation measured in hours – not weeks or months.
The Solution
Introducing the XL Productivity Appliance™. A "bolt-on" performance management tool that is so easy to use that it can be self-deployed in about an hour.
­
XL automatically tracks production in real-time and instantly delivers meaningful, accurate, and actionable information anywhere in the world. We call it Data Anywhere, Data Everywhere™.
­
The integrated large area visual display informs, alerts, and motivates your plant floor employees, while the built-in Ethernet LAN connection delivers instant production reports and analytics to supervisors and managers – wherever they are. All from one, low-cost, fully-integrated hardware appliance.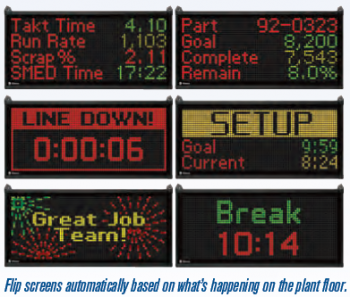 The Benefits
production reporting system, historical analytics, and browser-based live data—all included.
No software to install. Simply plug the XL into your LAN and it delivers instant plant floor performance data.
No changes to your process. It's a "bolt-on" solution that easily connects to your existing process.
No waiting. Instant production reports delivered in Excel®, Word®, and CSV formats.
Live production data delivered directly to your desktop via a standard web-browser.
Motivates plant floor employees to meet and exceed goals with real-time performance feedback.
Eliminates time consuming and error-prone manual data entry.
Tracks 100+ metrics including OEE, Target, Performance to Takt, Rate and Down Time.
Exposes losses in real-time for immediate corrective action.
Shows if process is on target (green), slightly deviating (amber), or requires immediate attention (red).
Adapts to your process with intuitive browser-based configuration tools.
Field proven with thousands of installations across all major industries.
Self-deployed in about an hour.
Expert technical support.
Line Andon is the Middle East Partner of Vorne Industries